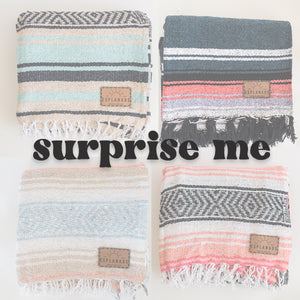 Having a hard time choosing which color beach blanket to order? Or maybe you're just a fan of the element of surprise? Either way this is going to be FUN!
When you order the Surprise blanket, you might receive one listed on our website or a limited/ one of a kind that is not listed! Ready to take a risk?
• Measures approximately 6 x 4 feet
• Weight: 2.2+ lbs (lightweight version)
• Made of Acrylic Blend
• Handmade in Mexico with custom US made vegan leather tags
• Machine wash cold & tumble dry low- they get softer with each wash!
**All sales are FINAL. There are no returns allowed on "Surprise Me Blankets" **